Recent UpdatesClick for all the details on the latest news!
Tuesday, December 01, 2020
06:39:01 JST
Due to recent community migration, some of the pages of the Bungo to Alchemist English Wiki may not display properly. The issue is being worked on.
We wish for your understanding during this period and thank you for your continuous interest in the fandom.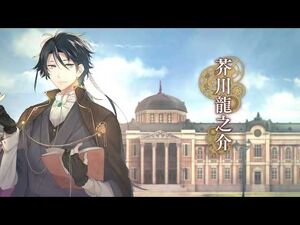 Introduction
---
たとひ魂は砕けても、想いは砕けない
Though a soul may perish, its feelings shall never fade away. *A quote from Akutagawa Ryuunosuke's "Aphorisms of a Pygmy".

You are taken to a world where you can meet renowned Japanese writers of the past. Your task is to delve into tainted books (有碍書, or yuugaisho) to purify them, with parties composed of writers (文豪, or bungou) to fight the Taints (侵蝕者, or shinshokusha), who have corroded the books. To gain writers, you must transmigrate them by delving into ensouled books (有魂書, or yuukonsho) or by meeting them while battling Taints in tainted books.

Bungou to Alchemist was launched on November 1, 2016, by DMM GAMES as a browser game, expanding to mobile platform the following year on June 14. Through the years the franchise has expanded into novels, stage plays and even anime.

About the Wiki
---
This is a wiki to help English-speaking players enjoy the Japanese literature-themed DMM online game 文豪とアルケミスト (Writers & Alchemist, or
Bungo / Bungou to Alchemist
), also known shortly as 文アル (BunAl / BunAru). We aim to provide a high-quality interpretation of the game's mechanics and nuances, and hope that all can come to understand Japanese culture and the spirit and charm of this game better through our efforts.
We can also be found from Twitter and we have a Discord server, where fans of the series have gathered through the years.
---
---
Main Library
---
Twitter Feed
Community content is available under
CC-BY-SA
unless otherwise noted.